Rendering house-Client has request us to produce two renderings for his home design project.
"Hi Athena,
Two rendering here- two new houses next door to each other ( A and B ).

The houses sit on a little bit of a hill the property slopes up
Attached is my autocad file, a picture of the existing street view and siding, roof and foundation finishes. I have labeled the pictures accordingly
Please keep the landscaping simple with only boxwood/evergreen shrubs along the front
Thank you!"
Below are the two angle drafts we made for client approval:
Clients feedbacks:

Looks amazing!! Thank you!
One comment- see attached- these two panels should be solid, not glass
We have to present these to the architectural review board so we may have changes after that meeting. We will figure out billing and everything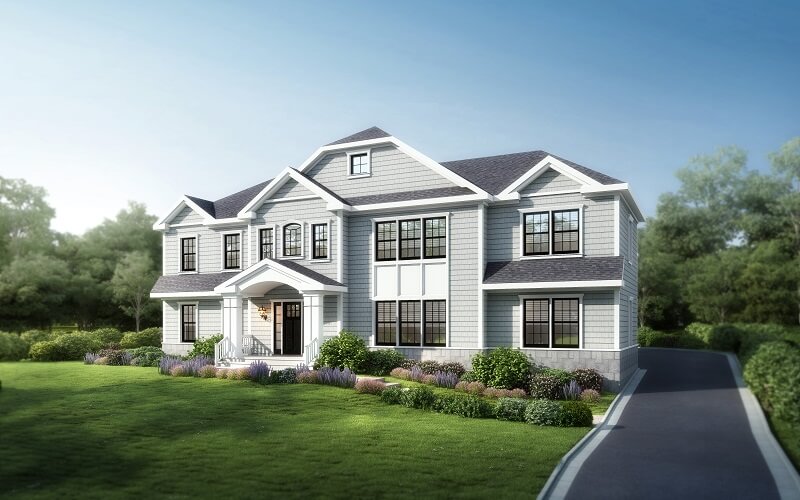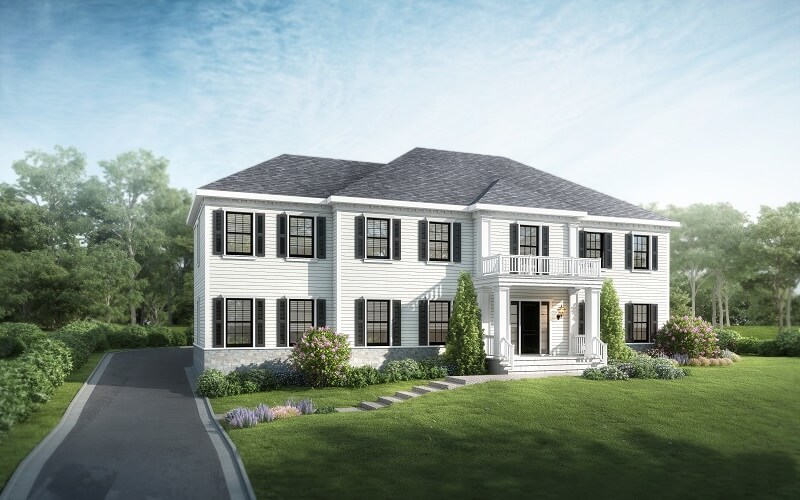 Clients feedbacks:

We went to the village board and they made comments- things need to be revised
See autocad version
House is basically the same- need to update few things- match autocad exactly
Style of door
-style of shutters- raised flat panel- smooth- can you try to add the hardware of the hinges as we show
-add more windows on certain elevations- compare with autocad
-window trim little larger- should be total 6" with 5" exposure- see autocad- looks like the trim is shown that way already- if so -ok
Keystone detail on trim at door only
Railing above do – post make wider – as shown on autocad
No handrails and guardrails on first floor
2"water table above stone- this should be stone- color of stone- not white
7" exposure on siding- white
Can you add the gutters and leaders to the drawing- see autocad
Driveway slight changes
No Belgium curb on side of driveway- flat pavers only- 8" wide
Create a 2 ft gap off the house for landscaping- we have the landscape architect working on this
We will have to update landscape slightly once the other architect is complete- I can send that info to you
For the most part this is a different design
The village board did not like the design to much so we change it
The location of the building is the same
The footprint of the building for the most part is the same-
We did change the front right portion of the first floor wall (looking at autocad plan view)
This wall is straight and flush
We also add 45 degree bay windows on this first floor front wall
On second floor we pushed the middle set in a foot and added a large picture window at that wall
Added more windows on certain elevations
Windows to be white
Window trim to be slightly larger- 7" total trim with 6" exposure- front gets the keystone
Add gutters and leaders
All other changes to design in roof- gables- etc.
Start on project as soon as you can
As always the faster the better
Below are our final renderings for client: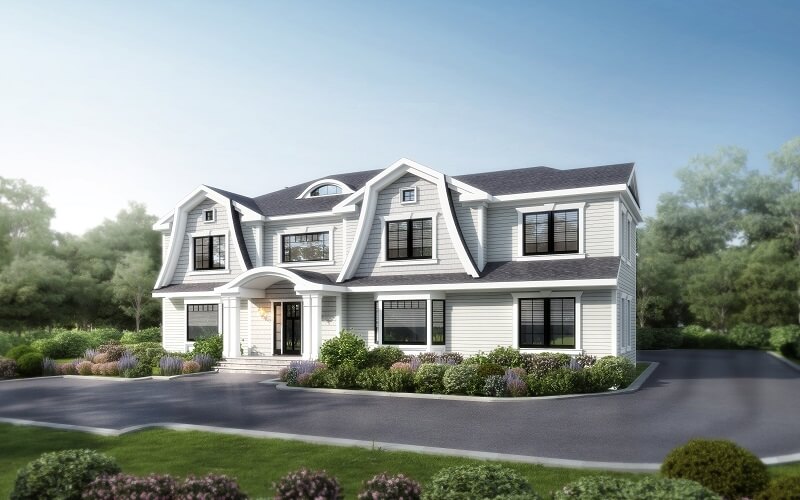 Clients feedbacks:

Great Job as always!
Tell us about your projects